This is Maggie.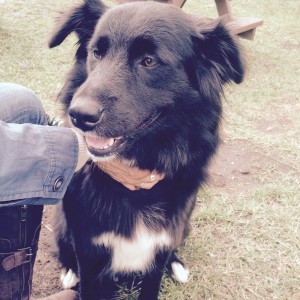 On our way to the airport today to drop off  my daughter in law and her friend, we spotted Maggie on the meridian of the round-about at McTavish Road – there were lots of cars coming and going around the circle and the dog was getting more and more agitated.  We stopped the car and Susan jumped out.  We continued around the circle to come back to Susan who had caught up with her.  She got in the car easily and knew to go right to the floor (instead of the seat).
I thought of how awful it was when my own dog went missing, often because of fireworks that spooked her and it turns out that is what may have also happened with this dog as well.
Through the power of social media, about five hours after we found her, Maggie was reunited with her owner.  Here are the steps that we took:
Took a photo and posted on social media, asking people to share the post – I posted on Facebook, Twitter and Instagram.  People shared and offered other places to post.
A girl at the coffee shop that we stopped at to try and sort out next steps overheard us and posted on a Mom's Group that she belongs to on Facebook as well.
We contacted the RCMP and Police Departments in the areas to let them know we had found a dog and our particulars as well.
We contacted the radio stations – turns out this wasn't as productive as we first thought but CFAX took all the information and the Q suggested we post on their page (we did).
We contacted the CRD Animal Control and gave all the details.
We stopped at restaurants and called vets in the area.
Through social media we found out about FLED (Found Lost and Escaped Dogs) – Facebook page https://www.facebook.com/FLED.Vancouver.Island?hc_location=ufi  Website https://fledsearch.wordpress.com/
We also posted on another group Dogs of Victoria on Facebook – https://www.facebook.com/dogsofvictoria?fref=ts
So there you have it – if you find a dog in Greater Victoria, those are some steps you can take to have him or her reunited with their worried owner.