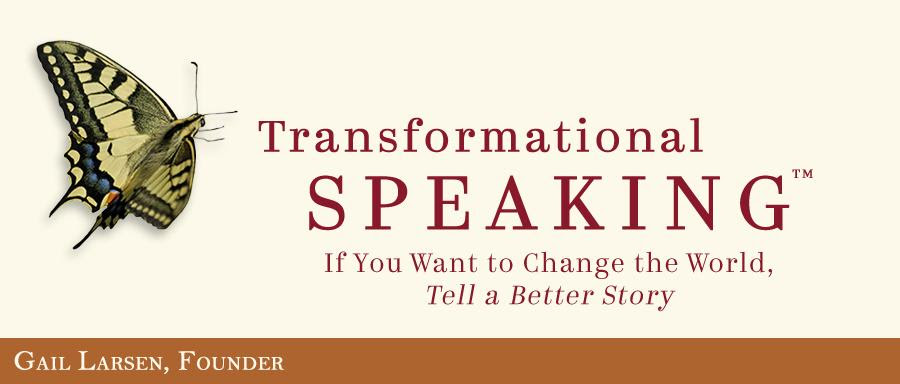 "Transform your relationship with your voice via the deepest stirrings of your soul." – Fast Company
January 15 to 17, 2021 – VIA ZOOM 
Are you ready to stretch to the size of your calling and speak about the work you love with ease and command?
Are you ready to have your communications reflect the truth of who you are?
Do you want your real self to emerge in front of others so you can influence authentically?
Do you want to trust your ability to speak well in the moment?
Nothing is more fundamental to your success and sustainability than attracting clients and allies who affirm and support your true gifts. Yet until you find your way to tell your story with imagination and heart, your message will fall on deaf ears.
There's a mystique about public speaking that convinces us there's "a way" to do it. Step aside from that myth and consider your way. Gail Larsen's liberating approach takes you to the heart of what you want to say while learning to trust your inherent capacity to communicate with individuality and originality, whether you speak to large groups or one-to-one.
Join in this lively experiential program where you'll dispel the myths and mystique of great speaking and bring your speaking alive. Explore how your story expands your capacity to speak out and be heard. Give voice to the core message that your life and your life alone has prepared you to tell. Emerge with a clear statement of your gifts and talents, what's real in your life, and what's next.
In this three-day training, you will:
Explore your Medicine and your Message, the two fundamentals that will simplify and amplify all of your business and life decisions
Recognize that the comfort zone you think you want pales in comparison to the Home Zone™, where your power as a speaker emerges
Understand the four levels of engagement and how your story can move others from resistance to resonance
Practice the 3 key presentation skills that will enliven your communications, on or off the speaking platform
Through brief coaching of each participant, observe the power of story to make the human connection that sets the stage for your message to be heard
Give voice to what's real and what's next
Get out of the jet lag of your life and catch up to who you've become!
Gail's workshops are lively, engaging, supportive, and fun, inviting you to enjoy the journey to calling forth your best. Please join us!
Friday evening, Saturday and Sunday
Immerse Yourself in a Transformational Journey
Via ZOOM – Pacific Time (Vancouver, BC)
Class Size: Enrollment Limited to 20 to allow personal coaching for all
Friday, January 15, 2021 – 1 pm to 5 pm
Saturday, January 16, 2021 – 8:30 am to 5 pm
Sunday, January 17, 2021 – 10 am to 3 pm
Your Investment:  $1,297 USD (Early Bird to November 15, 2020 – $997 USD) – a $500 USD non-refundable deposit is required upon registration.
STANDING OVATIONS!
Transformational Speaking is only half right. It is really Transformational Living. Gail is the real thing, a master at seeing the truth and a deep believer in the beauty of the human process. I want to sing from the mount that everyone should come and be in this experience. It will make you a more powerful speaker, a better writer, teacher, and leader, and a more powerful lover of who you really are." – DANIELLE LAPORTE, www.DanielleLaPorte.com
I came to Transformational Speaking hoping to polish my skills and be better at 'transforming' and 'inspiring' my audiences. Much to my surprise, I was the one transformed, more connected to my own story, more clear on the unique perspective only I can bring to my audiences. This lets me tell a much richer, more compelling story from a place of personal strength and clarity…..Transformation is possible!" -JIM SIBLEY, Director-Centre for Instructional Support, University of British Columbia
Gail Larsen is a Medicine woman. She healed me from the fear of speaking and helped me find my truth and my unique voice in the world. Her Transformational Speaking course made me a more courageous, joyful, and authentic storyteller." -ALLANAH MOONEY, Producer/Consultant, Lionheart Communications
The rave reviews turned my head, and I'm a convert. Wise and accessible, Gail will help you leap forward in your confidence and understanding with practical tools and a framework to support your unique voice."  -JOEL SOLOMON, Renewal Partners, Vancouver, BC
"I enrolled to explore my speaking abilities and got much, much more than that. Gail's work is not just about transformational speaking. It's about knowing oneself and one's message, being true to those, and enacting them in one's life and work. I recommend Gail's workshops to anyone because the critical themes – what you are all about and how you convey that – apply to all of us no matter our age or stage in life."  –YVONNE TABIN, Associate Dean, Simon Fraser University
. . . the most powerful speaking course I have ever taken because it is not about gimmicks; it is about being authentic and establishing a genuine connection with your audience. Gail operates with a steel fist in a velvet glove. Sign up. It will be the best money you ever spend on any kind of personal or professional development workshop."  -BRIAN NATTRASS, Sustainability Partners, Gibson's Landing, BC
Author and Strategic Advisor to several Fortune 500 Companies
. . I have been a lean, mean, medicine machine ever since your Vancouver workshop in 2011…developing my core message, my gifts and unique talents sewing them like beautiful fairy lace into my daily work. I came hoping to suppress the very things I am now embracing; how shocking then to realize my playfulness was the very strength I was needing. My reclaimed authenticity and expression are resonating powerfully over the internet waves and I owe it all to you! Thank you! Thank you! Thank you!" –KAMILLA REID, Dream Stoker & Author, Joy En Route – Seven Weeks to Rocking Your Dream and the bestselling children's book series The Questory of Root Karbunkulus
Gail Larsen
Gail Larsen's work has been described by Fast Company as "transforming your relationship to your voice via the deepest stirrings of your soul."  She takes what is often considered our greatest fear–public speaking–and helps us understand that fear is truly excitement without the breath. She delights in each person finding their own to speak from the truth of who they are and what they love to open hearts, inspire change, and move people to act.
Gail is the founder of Real Speaking® (www.realspeaking.com) and the award-winning author of Transformational Speaking: If You Want to Change the World, Tell a Better Story (Random House and Brilliance Audio). An SBA award-winning entrepreneur, her original  approach to communication draws from her own journey as a previously reluctant speaker, her respect for indigenous wisdom,  three+ decades in the world of speaking, and wide experience in business and association management. She is a former EVP of the worldwide National Speakers Association and has been on the faculty of Omega Institute in Rhinebeck, NY since 2008.  In 2014, she instigated the annual Holy Fools Day Extravaganza, an online event celebrating people who step outside convention to find their voices and become the radical change artists their souls are calling them to be. Gail offers
Friday evening, Saturday and Sunday 
Immerse Yourself in a Transformational Journey
Via ZOOM – Pacific Time (Vancouver, BC)
Class Size: Enrollment Limited to 20 to allow personal coaching for all
DATES:
Friday, January 15, 2021 – 1 pm to 5 pm
Saturday, January 16, 2021 – 8:30 am to 5 pm
Sunday, January 17, 2021 – 10 am to 3 pm
Your Investment:  $1,297 USD (Early Bird to November 15, 2020 – $997 USD) – a $500 USD non-refundable deposit is required upon registration.
Cancellation Policy: When you register for the workshop, we are committing one of only twenty spaces to you. Your tuition payments are not refundable should you cancel your participation. If you cancel because of an emergency and we are able to fill your spot, your tuition will be refunded less a $250 administrative fee.  If you cancel for personal or business convenience, you may receive a refund less a $500 administrative fee if the space you were taking in the class receives another enrollment.  If the space remains unsold due to late cancellation, you will not receive a refund.   Workshops are transferable with notice.  In the unlikely event that the workshop is cancelled you will receive a full refund of amount paid.
Questions:  Please direct any questions to Carolyne Taylor – carolyne (at) carolynetaylor.com