Have you ever heard someone speak and you had no idea the impact they would have on you?
That was me, last week!
I read a poem at a luncheon I hosted with WISH's Tera Warner, and heard it repeated by Leigh Anne Touhy, whose  family was made famous with the movie "The Blind Side". The funny thing is that when I read the poem is was brought to my attention that I didn't have starfish on the table but sand dollars, so I changed the wording.  After reading Leigh Anne and Sean's book, "In a Heartbeat", it reflected exactly the message the Leigh Anne wants to share the most – it doesn't matter who or what it is (a starfish or sand dollar), just do something, one thing, and it can make a difference. At the Power of Women in Vancouver, Leigh Anne said "next time you're standing in line next to someone, acknowledge them". I have written before in my post "Who Have You Connected Today?" that sometimes we never know the impact of the effect that we can have on someone or something.
I never knew the impact that hearing Leigh Anne speak would have on me. The lineup of speakers included two of my favorites, Suzanne Somers and Ellen and I didn't even know who Leigh Anne was until I got to Rogers Arena in Vancouver – she was the first one to grace the stage and no one could top her for me that day! Since then I've finally watched the movie "The Blind Side" and I just finished her book, written with her husband Sean.
Here are some of my favorite quotes from the book and her keynote, and finally, my sand dollar story – being on the west coast of Canada we are more likely to find there on our beaches up near Parksville, than a starfish.
Don't talk about it. Live it. "Virginia Cummings Roberts
"Your reputation precedes you – it comes before the actual you, and once it's gone, it's gone forever" Sean Touhy
"The legacy we leave is not just in our possessions, but in the quality of our lives. The greatest waste in all our earth, which cannot be recycled or reclaimed. is our waste of the time that God has given us each day." Bill Graham
"When you're going through tough times, that's when you most need to give back." Mother of Reed Sandridge, who when finding himself unemployed from a not for profit gave $10 a day to  someone in Washington, DC and started blogging about it – strangers, inspired by his gesture started stepping up. You can read about Reed's experiences on his blog "Year of Giving" which it looks like, two years later he is still giving and he has grown an amazing organization – ah, the power of one – I'll be reading more about this organization!
"Give love and you will always get it back. That's our story, that's our message." Leigh Anne and Sean Touhy
The Sand Dollar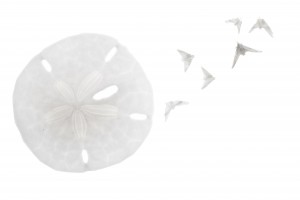 Once upon a time there was a westcoast goddess who went to the ocean to do her writing. She had a habit of walking on the beach before beginning to work. One day she was walking along the shore. As she looked down the beach, she saw a figure moving like a dancer. Intrigued, she smiled to herself to think of someone who would dance to the day. So she began to walk faster to catch up. As she got closer, she saw that is was a young man and the young man wasn't dancing, but instead he was reaching down to the shore, picking up something and very gently throwing it into the ocean. 
As she got closer she called out, "Good morning! What are you doing?" The young man paused, looked up and replied. "Throwing sand dollars in the ocean. The sun is up and the tide is going out and if I don't throw them in they'll die."
The women replied, "Don't you realize that there miles and miles of beach and sand dollars all along it. You can't possibly make a difference!"
The young man listened politely, then bent down, picked up another sand dollar, and threw it into the ocean, past the breaking waves and said "I made a difference for that once."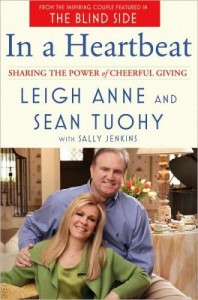 Leight Anne Touhy states in the conclusion of "In a Heartbeat"… "If there is one meaning we'd like you take from our story, it's this: the person you just walked past is the one who could change your life. So, every once in a while, stop and turn around. Find out about that person." Find out more about Leigh Anne and Sean Touhy and the work they are doing at the Making it Happen Foundation website.