I opened my computer this morning to begin working on the 2019 Victoria Yoga Conference.  Each year I work with my team after the conference to ask three questions that come from the work of Fabienne Fredrickson who calls this process Groundhog Day.  1.  What worked well? 2. What didn't work at all?  3.  Based on what I know today, if I did it all over again tomorrow (#groundhogday), what would I do differently?
This is what showed up on my screen.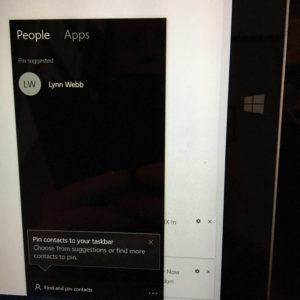 For those of you who knew Lynn you will understand the significance – for those who don't, Lynn passed away 7 ½ years ago.  Lynn was the first person who introduced me to the work of @brenebrown when she booked her for our HR conference in 2011.  Lynn didn't get to see or meet her because she was in the hospital.  As an expert event producer and team leader, Lynn was always ahead of the curve and there are many of us who aspire to give and be as much as she was.
When she passed, her best friend Jack took on the task of going through her belongings and giving them to people to whom he knew would remember Lynn in different ways.  In my craftier days I made coasters and did a photo transfer to some of them.  One day in the mail a box arrived, small but heavy.  The coasters I made for Lynn found my way back to me.  The one with our faces is the base for my water, tea or coffee when I am working at home.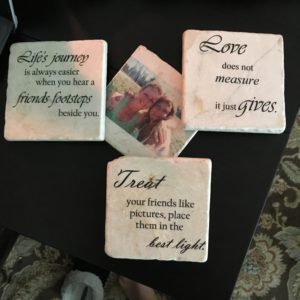 At the office I have two votive holders that I light tealights to bring Lynn into the room and infuse my work with her energy.
Lynn was truly an earth angel and I believe she is one of my guides watching over me, reminding me always to take the path paved with love and good intention.  She saw the best in people, always, even when they wronged her.  She was a role model to me and so many.
So….long story short,  I didn't even know that Lynn was still in my contacts on my computer and certainly had not been looking her up and yet here she was, a gentle reminder to infuse all that I do, and that the way that I walk in the world be infused with love and good intention.
This blissed life,
Carolyne