"If you woke up tomorrow and were free to do anything you wanted with your life, what would you do and who would you be?"
I read this and though I am doing what I want with my life – but maybe I should come up with something more… funny how we live is a state of 'this is not enough' sometimes, right?
Thus was my day:
Woke up without an alarm clock, rolled over and read my book for about ten minutes.
Got up and did my morning ritual and…
Out the door, through my garden into the sunshine and quick coffee stop on the way to my office.
Check in on email, and prepare for inspirational women's luncheon that I host once a month.
Taxi to Union Club – host lunch featuring speakers on "shop local, think local first" and also a community micro lending program that supports entrepreneurs in our city who may not qualify for regular sources of funding. Today we also supported 9 women from Bridges for Women Self Employment Program to have a lunch buddy and get connected to some more amazing women. Staff at the venue say "this is one of the most inspiring groups we see here"… following lunch get lots of amazing feedback from the attendees.
Back to the computer for a good five hour stretch – planning recognition events, member events, booking inspirational speakers for upcoming events and some other assorted computer 'stuff'.
Quick stop at grocery store to pick up some local produce and dinner stuff.
Home, dinner, time in garden, bit of yoga, relaxing time talking with friends, looking at lovely pictures taken at today's luncheon and reading some feedback from the attendees, planning for a visit from my granddaughter tomorrow morning. Reading a few magazines. Planning for taking a group of women on a travel tour to Italy September 2014. Daydreaming a bit thinking about what I want to write today – lol
Now, here's the thing – tomorrow will be pretty much the same – no luncheon to host, but there will be another inspirational event to host next week (at 7 am none the less) but it will be a day filled with building relationships, connecting people, being with people I love and admire, working hard at work I love to do.
Are there things I want to do that I'm not doing now/yet – absolutely – but those are coming too – I am being asked to speak more myself – on building authentic connections and the importance of community in our lives. I'd like to have more time to write one of the three books I have inside me (one is 3?4 done, the other is an outline, and the third is to be revealed). I'd like to have a private yoga teacher that shows up at my door each day at 6 am to lead me through a program tailored just for me and then a hairdresser who comes to make my hair look amazing every day – not just the lucky days.
But, if I can wake up each morning, appreciating the life I have, the people that grace my life each day and go to bed knowing I have made a difference in at least one person's life, I'm not sure how much I'd want to really change.
So, if I woke up tomorrow and was free to do anything I wanted with my life, I would do more of what I'm already doing!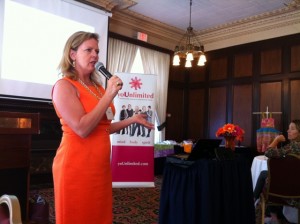 "…every morning I wake up and think I live in such an amazing place, and then I come to a yoUnlimited lunch and I am blown away by all the amazing women in the room. I am very grateful that you took the time to be here today."
Carolyne Taylor, yoUnlimited lunch – August 7, 2013