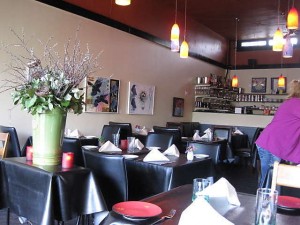 Had dinner last night at a lovely little bistro. The owner, someone I've chatted with before and admire for her straightforwardness (I love people who are just who they are), told us a good news story for the evening.
"The couple in the window", she says.
"Yes, I saw them, they were adorable." I reply. They have left the restaurant by now.
"They were on a date and when they looked at the menu, said, oh it's more expensive than we thought. I asked them how much they had each to spend and they told me ten dollars. I told them I would feed them for ten dollars each, and brought them a meal."
I'd seen them gazing at each other when we arrived at the restaurant but my date had noticed their dessert when it came out – we all have an eye for certain things! She went on to say "I brought them a dessert too and they shared it."
Now here's the best part . . . In the end she sent them on their way and didnt charge them for anything – they're you g, she said, I think about my daughter and hope someone looks out for her like that too.
Living a BLISSful life….
Believing in paying it forward.
Learning the impact of compassion.
Inspiring me to do my own random act of kindness in this way (it's been a while)
Serving up some goodness in nourishment.
Succeeding in building community (I'll be back and I will tell others).